SUPER WATER REPELLENT MIRROR CLEAN – Water repellent for Side Mirror
A super water repellent that realizes a contact angle of 150° or more by applying the fractal theory(water repellency development by the nano-structured). There is no rain on the door mirror or back camera lens. If the structure has fine protrusions, water cannot enter the gaps and rappels and rolls off. Water is in surface contact with a very flat surface, making it easier to absorb. The effect is called the "Lotus effect" and is similar to the Lotus Leaf repelling water. Easy installation by simply spraying directly on the window glass and wiping it off. the first glass silicon water repellent to use no catalyst and has improved safety.
Application Location: Door Mirror
Product form : Liquid
capacity
100ml×6, 20units (left & right) can be applied
Description
1. It can be easily removed by touching it with your hand or wiping it with a towel.
2. It becomes whitish, but it has almost no effect on visibility
3. Application conditions depending on the humidity and temperature and the finish time and drying time will vary.
4. It cannot be used for coloring, water repellent, with wiper, hydrophilic, ultrasonic glass mirror.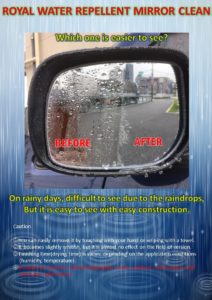 Wash to well the mirror
Wipe well with the towel
Blow water with an air gun etc. Does not settle in the presence of water.
After it dries well, start from the top of the mirror.
Spray 4~5 times on one mirror. If the amount of liquid is small, it will not be super hydrophobic.
Dry immediately after spraying.
If you wait for a while it is drying, white things will come down thinly.
When it is dried, the white things that dry from the top will come down thinly.